I don't understand what I have to do.
The other topic about this problem don't help me.
The information:
Whitespace makes code easier to read by increasing (or decreasing) the spacing between lines of code. To make the structure of code easier to read, web developers often use indentation.
The World Wide Web Consortium (W3C) is responsible for maintaining the style standards of HTML. At the time of writing, the W3C recommends 2 spaces of indentation when writing HTML code. Indentation is intended for elements nested within other elements.
Violin
Viola
Cello
Bass

In the example above, the list items are indented with two spaces. The spaces are inserted using the spacebar on your keyboard. Unless your text editor has been configured properly, the "TAB" key on your keyboard should not be used for indentation.

Instructions

Take a look at the code in the code editor. Most of it is indented correctly, but there is one section that is not indented correctly. Fix the indentation to match the style standards that the W3C recommends.

My program:

Animals Around the World

The Brown Bear

The brown bear (Ursus arctos) is native to parts of northern Eurasia and North America. Its conservation status is currently "Least Concern." There are many subspecies within the brown bear species, including the Atlas bear and the Himalayan brown bear.

Learn more

The following are subspecies of bears:

Arctos
Collarus
Horribilis
Nelsoni (extinct)

The following countries have the largest populations
of brown bears:
Canada
Russia
United States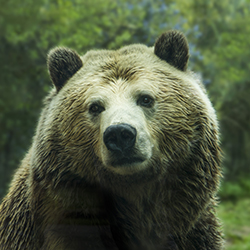 Can somone please help me?