<PLEASE USE THIS TEMPLATE TO HELP YOU CREATE A GREAT POST!>
<Below this line, add a link to the EXACT exercise that you are stuck at.>
This is the link to the exercise
<Below this line, in what way does your code behave incorrectly? Include ALL error messages.>
I don't know whether I am not following correct practice. I tried to make it look nice but then it said not to use the TAB button unless your text editor had been configured properly. The exercise also said that there was a mistake somewhere in the code, but I wonder if that was just if I hadn't just messed with the formatting, because it's pretty laissez-faire about what's an acceptable answer. At one point I ran "a href" for creating a link (with tags) and it said I was right.
It also says use two spaces for indentation, but I'm confused. So -ul- gets one space -li- gets two? Does it get two more with more nesting?? Or just one?
``` Animals Around the World
The Brown Bear
The brown bear (Ursus arctos) is native to parts of northern Eurasia and North America. Its conservation status is currently "Least Concern." There are many subspecies within the brown bear species, including the Atlas bear and the Himalayan brown bear.
Learn More.
The following are subspecies of bears:
Arctos
Collarus
Horribilis
Nelsoni (extinct)
The following countries have the largest populations
of brown bears:
Russia
United States
Canada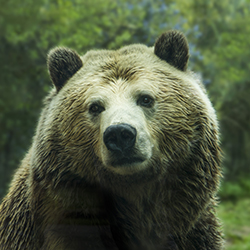 <do not remove the three backticks above>
I imagine there being a couple mistakes, unless they fixed it up in the exercise but....can I get some clearer formatting instructions and have someone confirm whether the code above is sloppy in readability?